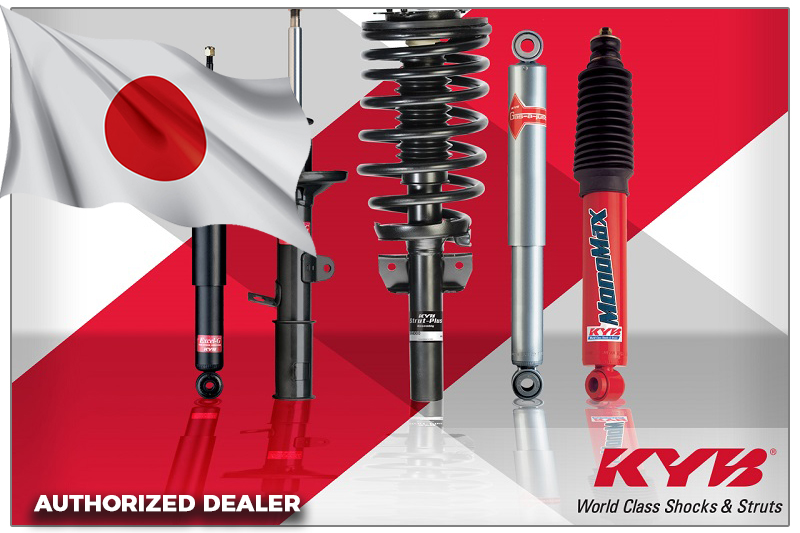 Official Dealer of KYB Japan – High Performance Suspension
KYB Corporation produces a variety of ride control, hydraulic, and electronic products for use as original equipment and replacement parts in automobiles, motorcycles, trucks, specialty vehicles, buses, aircraft, railroad cars, industrial applications, agricultural applications, and civil engineering projects. Our global headquarters are located in Tokyo, Japan.
By consistently developing world class ride control products, KYB has become the world's largest supplier of OE and aftermarket shocks and struts. Today, our annual sales exceed $4.2 billion. We have 32 facilities in 21 countries, and 15 manufacturing plants in Asia, the United States, and Europe.
While much of KYB's overall sales are from automotive shock absorbers, we also produce a wide range of hydraulic and electronic equipment used in a variety of applications in many aspects of modern life. Vehicular and transportation applications include power steering systems, automotive electronics, construction equipment, agricultural equipment, special use vehicles, railroading, aircraft, and maritime shipping.
Other KYB product applications include hydraulic equipment used in manufacturing, testing, lifestyle, and civil engineering projects, as well as special needs equipment such as wheelchairs. The varied uses and applications of KYB products and equipment demonstrate our commitment to helping create a safer, more efficient, and more comfortable society.
KYB founded as Kayaba Research Center on November 19, 1919
Largest production volume of any automotive shock absorber manufacturer in the world
Facilities in 32 locations in 21 countries, and over 10,000 employees worldwide
KYB owns 15 production plants in Asia, Europe, and the United States
Total sales of more than $3.8 billion
World's largest supplier of shocks and struts to vehicle manufacturers Supplier to major OEMs including, GM, Honda, Mazda, Mitsubishi, Nissan, Infiniti, Chrysler, Subaru, Toyota, Lexus, and Volkswagen
KYB Americas operates 2 distribution facilities in North America
KYB's highly automated manufacturing lines can switch from producing 1 strut to another in 15 seconds